Our Installation Specialty– Glass Garage Doors!
Ready to explore glass garage doors? Welcome plenty of light with a full-view style. Manage who can see inside your garage with endless tinting and reinforcement options. Glass garage doors are special for a number of reasons and are most desirable for their style and color versatility. These modern style garage doors will enhance any home, and we're excited to install and service them for you in the Miami-Dade, FL and surrounding area.  
The Easiest Design Element You Can Add To Your Home
You can treat glass garage doors as large windows; they're just windows with the added benefit of fully opening up. Earn a functional living space with a glass garage door addition. Common trends where glass garage doors are being used include:
Enclosed patios

Porches

Pool houses

Kitchens 

Office spaces

Basements

Ask us about a custom glass garage door!
Living in a seasonal storm-prone area, wind-load doors are a smart investment. We reinforce glass garage doors with professional-grade panels and heavy-duty struts, so your door is well protected against a hurricane. See below for more reinforcements and benefits that glass garage doors have to offer! 

Endless Customization Options 
You can choose just about every component so that your glass garage door fits your security needs and style. Decide how much light you want to let into your garage. Enhance your home's value with a custom glass garage door!
Glass options:
range from tempered, impact-rated, mirrored glass to frosted glass with even more durable and cosmetic options.
Types of frames:
welded together by aluminum, choose your glass garage door frames with powder coating to prevent rusting.
Insulation:
 improve the energy efficiency of your glass garage door and help regulate the temperature of your garage. 
Choose the Right Garage Door Opener For Your Glass Garage Door
Glass garage doors are very similar to your standard overhead garage door; they use tracks, springs, and hinges. They also require a garage door opener for easy automation, convenience, and safety. However, glass garage doors are heavier than standard garage doors, so it will require a durable opener. We will help you decide on the perfect garage door opener capable of lifting your new glass garage door.
The best thing about glass garage doors? There's little maintenance needed compared to standard garage doors. Over time, a new coat of finish or paint will freshen up a wooden or steel garage door. Glass garage doors don't require paint – just soap and water for extra shine! You will get the best lifespan out of your glass garage door by keeping up with simple maintenance.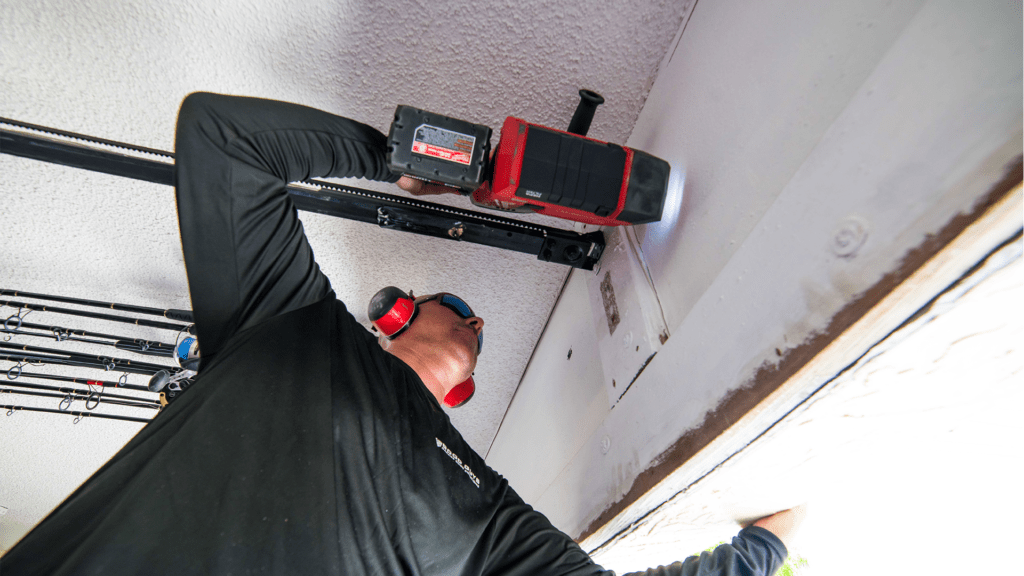 Schedule Our High-Quality Glass Garage Door Installation
If you're interested in purchasing a glass garage door or just seeking a consultation, we'll gladly work with you to find the right glass garage door for your home and budget. Schedule a glass garage door installation from Good Guys Garage Door Solutions, so we can ensure an incredible finished product for you.
Frequently Asked Questions
Each manufacturer of glass garage doors has restrictions on sizes, but we can order one custom-built to your specifications. We always measure your garage door frame beforehand, so we will help you find the right manufacturer for the door size you need.
They are safer than the material 'glass' suggests! Glass garage doors are built to be more durable than traditional steel and just as safe and secure as a steel garage door. We suggest installing an auto slide lock to act as a deadbolt that will hold the door down when the opener closes the door. We also suggest installing tempered glass  in the event your glass garage door breaks. Tempered glass will break into a bunch of thick, little pieces for easy cleanup rather than thin, sharp glass that can cut people if they break.
Consider the headroom and your intentions for garage space when deciding on the right track for your glass garage door. We install specialized tracks for low headroom (rooms with little to no headroom above the opening), high lift (the door goes up and back to provide more room for things like car lifts), and custom garage door tracks. Ask us about countertop garage doors!
Great experience from the moment I called to schedule service to the time they left the job. They explained the cause of the breakdown and the best way to perform... read more the repair. They gave me a quote upfront. They were very organized and efficient in the repair process. No question, they obviously know what they are doing. It is refreshing for once to find someone you can trust and rely on.

David Frappier


Ryan and his team are UNBELIEVABLE. They installed a Haas door with a white powder coat finish on the interior at my house. Their attention to detail, professionalism and craftsmanship... read more are second to none. More importantly, they care and go the extra mile to provide excellent service. I highly recommend Good Guys Garage Door Solutions for all your garage door needs.

Max Bikoff


I would highly recommend Good Guys Garage Door Solutions for your garage services. Ryan, Ashley, Matt and Jean were highly professional, punctual, and communicative. They responded to all my inquiries... read more quickly and thoroughly. The day of installation, they arrived on time, completed a custom high lift track conversion and installed a Lift-master wall mount. After completion, they left the garage clean and orderly. The work was wonderful and now the garage feels much larger. It would be the best decision to have them perform your garage services or repairs.

RPW


Installed our garage door motors the same day at 6pm! Excellent customer service. Would highly recommend!!!! A+++++. Thank you!!!!

Michael Denis


The team at Good Guys were excellent. From day 1 when I asked for them to come give a quote to today when they came to install. The... read more communication was proactive and excellent and always on time. The door looks beautiful and most important, my wife loves it. Keep up the great work!

Carlos Lopez


The Good Guy Garage Door Team was so great to work with! Great communication, organized, and efficient! Strongly recommend this company to anyone.

Jaime Renard


Top notch professionals. Good Guys custom designed, fabricated and installed a trackless system to accommodate my car lift. Others said it couldn't be done, but Good Guys got 'er... read more done! On time, on budget and as promised. Thank you!

Eric